Brasserie 1742
Address: Stora vägen 75, 360 52 Kosta
Show map
Address: Stora vägen 75, 360 52 Kosta

A brasserie-style restaurant housed in the unique Kosta Boda Art Hotel. A seasonal menu with local ingredients is offered here. Brasserie 1742 is a modern interpretation of a brasserie. Innovative cuisine in a rustic setting. The menu is based on locally sourced ingredients, selected according to the season.
Show more
Bed & breakfast
Distance: 12.9 km
The Bed & Breakfast is situated only 200 meters from the world-famous artist Mats Jonassons glassworks. At the glassworks there is a restaurant where you also can have a traditional "Hot shop herring" with glassblowing. There are good fishing possibilities in two privat lakes for the guests. Boats for rent. Two bed rooms.
Hostel
Distance: 12.9 km
Since 2003, Annegret and Frank Fender, is running hostel and B&B in Målerås. We have renovated Målerås old railway hotel from 1890 and can offer fresh single, double and multiple rooms. Just beside the main building we offer, as an alternative, Bed & Breakfast in double room apartments. In total we have about 40 beds.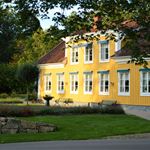 Hotel
Distance: 20.3 km
The Mansion is situated in a beautiful oak forest in the middle of Småland, The Kingdom of Crystal and Vilhelm Moberg's emigration district. Here you can stay in a rural, scenic and relaxing setting - We have a total of 15 guest rooms.