Klasatorpet
Address: Klasatorpet "Korpamoen", 361 95 Långasjö
Show map
Address: Klasatorpet "Korpamoen", 361 95 Långasjö

Klasatorpet is located in Långasjö, southwest of Emmaboda. The croft is better known as "Korpamoen", the home of Karl-Oskar and Kristina in the film The Emigrants by Vilhelm Moberg.
Exhibits and material from the filming remain. Klasatropet gives us a picture today of how a crofter's family in Småland lived 100 years ago. The area is an excellent destination for children, who get an opportunity to spend time with some of our most common pets.
Show more
Hostel
Distance: 1.1 km
The hostel is housed in old church stables, a 60m long red-stained building in beautiful countryside at the centre of the small village of Långasjö.
Hostel
Distance: 9.3 km
Moshult is located 185 metres above the sea level, it has a magnificent view over the surrounding forest.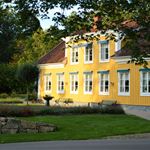 Hotel
Distance: 13.1 km
The Mansion is situated in a beautiful oak forest in the middle of Småland, The Kingdom of Crystal and Vilhelm Moberg's emigration district. Here you can stay in a rural, scenic and relaxing setting - We have a total of 15 guest rooms.