Kosta Glasswork
Address: Stora Vägen 91 , 360 52 KOSTA
Show map
Address: Stora Vägen 91 , 360 52 KOSTA

Standing next to the furnaces at Kosta and watching glass take shape is quite a spectacle. It is a drama that has been played out ever since the first furnace was put in service in 1742. Since then the glassblowers have gained mastery over the fluid molten glass and refined their handicraft from generation to generation. With the help of Kosta Boda's skilled designers, today the old handicraft tradition encounters new modern and exciting forms. Today all visitors have an opportunity to witness this spectacle.
Even though the large glass shop and the even larger sales outlet are enticing, we recommend that you begin your visit at the far end of the glassworks' grounds by the sign "Hytta" (Blowing Room). Step in and watch the glass artisans at work in the largest manual blowing room in Sweden. Getting so close to craftsmanship is compelling.

On the opposite side of the grounds is the exhibition hall. Encapsulated here is the glassworks' more than 250 years of impressive glass history along with modern, new art glass.

Within the area you will also find Kosta Köpmanhus, which sells glass, home furnishings and other products, as well as Kosta Outlet, with 20,000 square metres of shopping space offering designer clothing, shoes, books, sporting goods and more at reasonable prices.

In addition, the summer of 2009 marks the opening of the spectacular Kosta Boda Art Hotel, a one-of-a-kind hotel experience that embodies the quintessence of glass in the middle of Kosta.
Show more
About this activity
Opening hours
www.glasriket.se/oppettider
Bed & breakfast
Distance: 12.7 km
The Bed & Breakfast is situated only 200 meters from the world-famous artist Mats Jonassons glassworks. At the glassworks there is a restaurant where you also can have a traditional "Hot shop herring" with glassblowing. There are good fishing possibilities in two privat lakes for the guests. Boats for rent. Two bed rooms.
Hostel
Distance: 12.7 km
Since 2003, Annegret and Frank Fender, is running hostel and B&B in Målerås. We have renovated Målerås old railway hotel from 1890 and can offer fresh single, double and multiple rooms. Just beside the main building we offer, as an alternative, Bed & Breakfast in double room apartments. In total we have about 40 beds.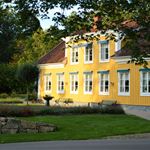 Hotel
Distance: 20.6 km
The Mansion is situated in a beautiful oak forest in the middle of Småland, The Kingdom of Crystal and Vilhelm Moberg's emigration district. Here you can stay in a rural, scenic and relaxing setting - We have a total of 15 guest rooms.