The Kosta pools are located in the heart of the Kingdom of Crystal on the outskirts of the community of Kosta. The three pools are heated. There is also a service building with a fast food stand, changing rooms, showers and restrooms.
Show more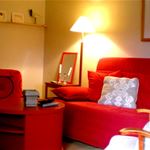 Hostel
Distance: 384 meters
Welcome to Kosta Bed's nice holiday apartments in Kosta. Each apartment has two rooms and a kitchen (53 sq m), TV with satellite channels, and a nice patio. The apartments enjoy a central location in a very quiet and natural setting near Kosta Glassworks (400m), Kostabadet swimming (100m), and shop.
Bed & breakfast
Distance: 13.3 km
The Bed & Breakfast is situated only 200 meters from the world-famous artist Mats Jonassons glassworks. At the glassworks there is a restaurant where you also can have a traditional "Hot shop herring" with glassblowing. There are good fishing possibilities in two privat lakes for the guests. Boats for rent. Two bed rooms.
Hostel
Distance: 13.3 km
Since 2003, Annegret and Frank Fender, is running hostel and B&B in Målerås. We have renovated Målerås old railway hotel from 1890 and can offer fresh single, double and multiple rooms. Just beside the main building we offer, as an alternative, Bed & Breakfast in double room apartments. In total we have about 40 beds.