The Kosta pools are located in the heart of the Kingdom of Crystal on the outskirts of the community of Kosta. The three pools are heated. There is also a service building with a fast food stand, changing rooms, showers and restrooms.
Show more
Hotel
Distance: 1.4 km
Situated by the dam in Kosta lays Kosta Lodge, which offers 26 fully equipped apartments, each with their own patio. The apartments are 35 square meters with six beds in each apartment. Kosta Lodge is an ideal option for those who wish to tend for themselves while staying close to activities and adventure. By summer two pools will offer play and coolness under the summer sun.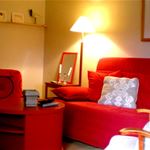 Hostel
Distance: 384 meters
Welcome to Kosta Bed's nice holiday apartments in Kosta. Each apartment has two rooms and a kitchen (53 sq m), TV with satellite channels, and a nice patio. The apartments enjoy a central location in a very quiet and natural setting near Kosta Glassworks (400m), Kostabadet swimming (100m), and shop.
Hostel
Distance: 13.3 km
Since 2003, Annegret and Frank Fender, is running hostel and B&B in Målerås. We have renovated Målerås old railway hotel from 1890 and can offer fresh single, double and multiple rooms. Just beside the main building we offer, as an alternative, Bed & Breakfast in double room apartments. In total we have about 40 beds.