Kosta Glass Centre offers hands-on activities for old and young. You can choose to blow a sphere, a drinking glass or a bowl. You then can choose which colour you want the glass to be and whether or not it should have a pattern.
When the choices have been made, it's just a matter of getting started with the production. Together with a glassblower, you will manipulate the molten glass and watch how it takes shape. By the following day, your finished product will have had time to cool and be ready to pick up.

Booking online must take place no later than 7 days before arrival; after that, booking should be done via telephone: +46 (0)70-684 61 91.
Show more
Book now - choose start date and product
Hostel
Distance: 18.9 km
Vidinge Gård is located in the middle of the Kingdom of Crystel, in the beuatiful countryside of Småland, 2 km outside of Älghult.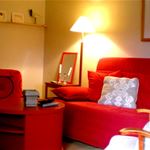 Hostel
Distance: 682 meters
Welcome to Kosta Bed's nice holiday apartments in Kosta. Each apartment has two rooms and a kitchen (53 sq m), TV with satellite channels, and a nice patio. The apartments enjoy a central location in a very quiet and natural setting near Kosta Glassworks (400m), Kostabadet swimming (100m), and shop.
Hotel
Distance: 2 km
Situated by the dam in Kosta lays Kosta Lodge, which offers 26 fully equipped apartments, each with their own patio. The apartments are 35 square meters with six beds in each apartment. Kosta Lodge is an ideal option for those who wish to tend for themselves while staying close to activities and adventure. By summer two pools will offer play and coolness under the summer sun.