Drawing Light/Rita i ljus – Neon Workshop
Kategori:
Kurser och föreläsningar
Datum: Torsdag 23 apr 2020
- tisdag 28 apr 2020
This workshop will cover the fundamentals of designing and fabricating neon using American neon techniques.
Emphasis will be placed on translating drawn designs to drawings in neon,
using glass as a means of illustration and typography. Along with practical experience flameworking soft glass tubing, there will be lectures discussing neon's cultural context and the science of illuminating glass with plasma technology. Across five days, students will explore drawing and neon as two practices that go in harmony with each other, intersecting art, design, and science. No previous glass experience required, but a background in design or illustration is encouraged.

Ben Orozco is an artist in residence at the Glass Factory, researching techniques in Swedish glass and Scandinavian approaches to neon while working in Sweden as a Fulbright scholar. His work explores the abstraction of space through illustration, glass and sculpture. Recently graduated from the University of Wisconsin–Madison with concentrations in graphic design, neon, and sculpture, Ben has trained commercially in neon in the United States.
Vandrarhem och grupplogi
Avstånd: 16,2 km
Bo och ät på Moshults Vandrarhem och Pensionat Emmaboda En pärla mitt i Småländska Glasriket och Vilhelm Mobergs födelsebygd Hitta lugnet bland skogar och hagar Mitt emellan Växjö, Kalmar och Karlskrona
Hotell och pensionat
Avstånd: 20,3 km
Välkommen till ett trevligt boende i Glasriket med ett attraktivt pris! Boka din smålandsupplevelse redan idag!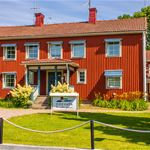 Bed & Breakfast
Avstånd: 12 km
Ödevata Gårdshotell ligger i otroligt vackert och naturskönt vid sjön Ödevaten. Här hittar du bra boende och goda förutsättningar till naturaktiviteter såsom fiske, vandring, bad mm